Data Link for the Mikrokopter
The data link for the new frame is finished. The new Board can be mounted under the new frame. As used in the old frame I decided to continue using the AREOCOMM 2.4Ghz transceiver module. This allow using all tools like directly connected with a wire. The board can also be equipped with an additional MEGA 8 AVR Microprocessor. This can be use to connect additional sensors to the Mikrokopter and send the data via the serial interface to the Flight control.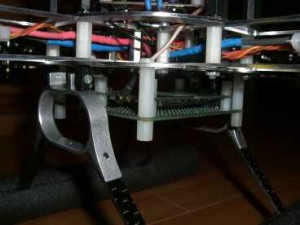 The Picture shows the extender board with the data link modul attached to the new frame.